The Most Popular Condiment in Each State. You'll NEVER Guess What MN's is!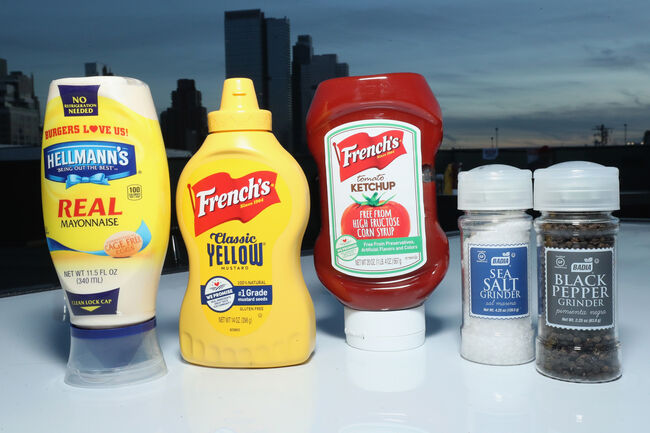 I kinda take the studies with a grain of salt. Ha see what I did there! A website called influenster analyzed some 50,00 reviews on it's site to come up with the most popular condiments in every state. I have never even heard of Minnesota's before so......
Minnesota: Nature's Way Extra Virgin Coconut Oil
On the other hand some of the other top condiments make sense for example Wisconsin's.
Wisconsin: Hellmann's Real Mayonnaise
If you know someone from Wisconsin then you know they put Mayo on EVERYTHING!
Here is the break down for the rest of the upper Midwest:
Iowa: Hidden Valley Original Ranch Dressing Buttermilk. Solid Choice!
North Dakota: Hellmann's Carefully Crafted Dressing and Sandwich Spread
South Dakota: JIF Peanut Butter
Nebraska: Sriracha Chili Sauce
Here is what the rest of the country likes:
Alabama: Sweet Baby Ray's BBQ Sauce
Alaska: Nature's Way Extra Virgin Coconut Oil
Arizona: Frank's RedHot Original Cayenne Pepper Sauce
Arkansas: Hidden Valley Ranch Dressing
California: Sriracha Chili Sauce
Colorado: Nature's Way Extra Virgin Coconut Oil
Connecticut: Nutella
Delaware: French's Classic Yellow Mustard
Florida: French's Crunchy Toppers Crispy Jalapenos
Georgia: Sweet Baby Ray's BBQ Sauce
Hawaii: Nature's Way Extra Virgin Coconut Oil
Idaho: Hidden Valley Dips Mix Original Ranch
Illinois: Country Crock
Indiana: Bertolli Alfredo with Aged Parmesan Cheese Sauce
Kansas: Country Crock
Kentucky: French's Crunchy Toppers Crispy Jalapenos
Louisiana: Sweet Baby Ray's BBQ Sauce
Maine: Marshmallow Fluff
Maryland: Frank's RedHot Original Cayenne Pepper Sauce
Massachusetts: Nutella
Michigan: Bertolli Alfredo with Aged Parmesan Cheese Sauce
Mississippi: French's Crunchy Toppers Crispy Jalapenos
Missouri: French's Classic Yellow Mustard
Montana: Skippy Super Chunky Peanut Butter
Nevada: Hellmann's Real Mayonnaise
New Hampshire: Wish-Bone Balsamic Italian Vinaigrette
New Jersey: Bertolli Vodka Sauce
New Mexico: McCormick Garlic Salt
New York: Nutella
North Carolina: Frank's RedHot Original Cayenne Pepper Sauce
Ohio: Country Crock Calcium Plus Vitamin D
Oklahoma: Hidden Valley The Original Ranch Dressing Buttermilk
Oregon: Nature's Way Extra Virgin Coconut Oil
Pennsylvania: Heinz Ketchup
Rhode Island: Bragg Organic Apple Cider Vinegar
South Carolina: French's Crunchy Toppers Crispy Jalapenos
Tennessee: French's Classic Yellow Mustard
Texas: Frank's RedHot Original Cayenne Pepper Sauce
Utah: Hidden Valley Cucumber Ranch Dressing
Vermont: Skippy Creamy Peanut Butter
Virginia: Nutella
Washington: Sriracha Chili Sauce
West Virginia: Hidden Valley The Original Ranch Dressing Buttermilk
Wyoming: Skippy Super Chunky Peanut Butter